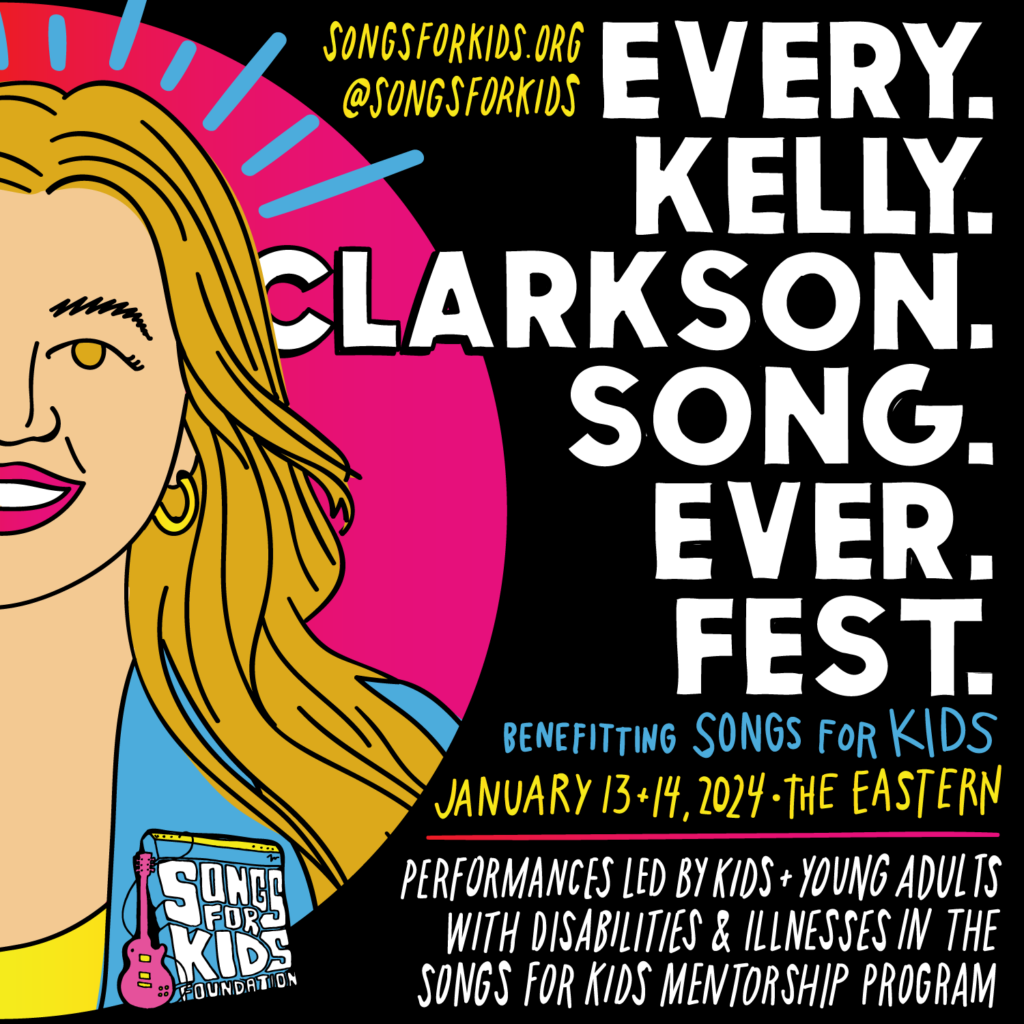 Do you know a kid or young adult (through age 39) who would be a great candidate to perform at Every Kelly Clarkson Song Ever Fest?
At Songs For Kids, we mentor kids and young adults with disabilities, illnesses, and injuries at no cost to families! Participation in this event and all preparation sessions beforehand are completely free.
Performers at Every Kelly Clarkson Song Ever Fest are not required to be available for weekly sessions to be in the program. Participants will rehearse for the show with the Songs For Kids mentor they are paired with at scheduled times leading up to their performance on Saturday, January 13th or Sunday, January 14th. Simply fill out the form below and we'll be in touch by phone with next steps.
The person filling out this form must be 18 years of age or older! If you are under 18, please have a parent/caretaker fill out this form with you.
Qualification for Songs For Kids programming is decided on a case-by-case basis, but we work with kids and young adults of all ages and situations. To give you an idea, here's a list of just some of the illnesses, injuries, genetic disorders, conditions, and special needs that we work with:
Autism Spectrum Disorders
Blindness
Brain Injuries
Burn Injuries
Cancer
Cerebral Palsy
Cystic Fibrosis
Down Syndrome
Heart Conditions
Limb Difference and Amputation
Mental Illness
Muscular Dystrophy
Neurodevelopmental Disorders
Paralysis
Sensory Processing Disorders
Sickle Cell Disease
Spina Bifida
Not sure if you qualify? Please reach out and ask! It's our goal to share this event with as many kids as possible. Email us at info@songsforkids.org or call directly at 404-541-9231!