When Songs For Kids mentors have the opportunity to build deeper, more meaningful relationships with kids through our Music Mentor Program, awesome things happen.
Songs For Kids At Home Music Mentorship works to bring music into the hearts and homes of kids and young adults with illnesses, injuries, and disabilities. At no cost to families, participating kids are matched with professional musician mentors who can make their musical dreams come true,  whether that's learning to play the guitar, taking singing lessons, or writing and recording their own music. For some of our kids, just listening to music and engaging with our mentors is a powerful experience. To make our services as accessible as possible for families, our mentors meet kids where they are: at home where they can feel safe and comfortable.
Take a look as Songs For Kids star and mentee, Nia, talks about what our program has meant to her.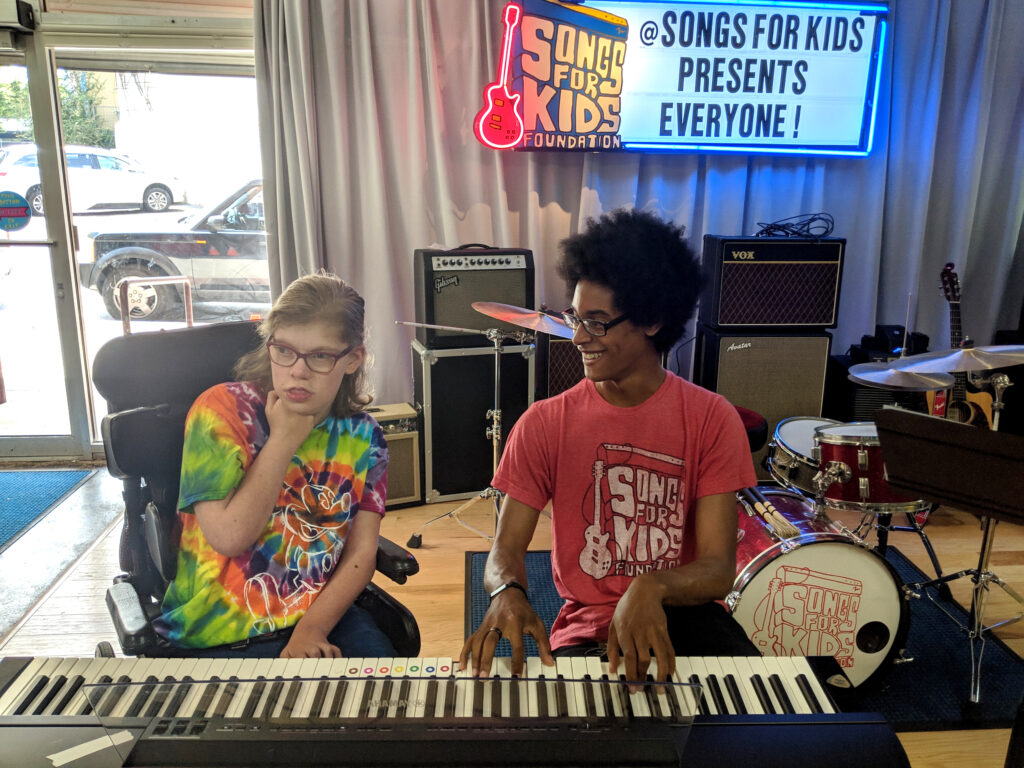 What Can You Do With A Mentor?
Songs For Kids mentors work to be present with kids regardless of their learning abilities, sensory processing, degree of movement, or coordination. We take the time to get to know each kid's unique needs and ensure they are getting the most out of each session. The focus is on having fun and enjoying the music. 
Activities that kids can do with their mentors include:
Sing along with your mentor
Enjoy the music
Songwriting and recording
Learn an instrument
Take voice lessons
Anything else musical? Just ask!
Our mentors are professional musicians with excellent musicianship as well as experience in songwriting and live performance. Songs For Kids musicians excel at building trust and rapport with kids and their families. Protecting kids' health is our first priority, so all mentors go through a rigorous application process, which includes a background check.
To Be Eligible for Consideration, Kids Must Be:
Between the ages of 10 and 24
Live within the Greater Atlanta or Greater Nashville areas
To find out more, click the button below and fill out a quick form with some basic info. Someone from Songs For Kids will be in touch with you within a week
Qualification for At Home Mentorship is decided on a case-by-case basis, but we work with kids and families of all situations. To give you an idea, here's a list of just some of the illnesses, injuries, genetic disorders, conditions, and special needs that we work with:
Autism Spectrum Disorders
Blindness
Brain Injuries
Burn Injuries
Cancer
Cerebral Palsy
Cystic Fibrosis
Down Syndrome
Heart Conditions
Limb Difference and Amputation
Mental Illness
Muscular Dystrophy
Neurodevelopmental Disorders
Paralysis
Sensory Processing Disorders
Sickle Cell Disease
Spina Bifida
Not sure if you qualify? Please reach out and ask! It's our goal to share this experience with as many kids as possible. Email us at info@songsforkids.org or call directly at 404-541-9231!